"Fleeting traditions" is a digital repository of the Ethnographic Museum in Toruń. The portal www.ut.etnomuzeum.pl presents the effects of a project carried out since 2016 to document intangible heritage consisting of the most valuable rites, traditions and customs of the Kuyavian-Pomeranian region. The portal is a digital library of autonomous services (which premiered on multimedia discs) devoted to the ephemeral traditions of the ethnographic regions that make up our regions.
The "Fleeting Traditions" repository describes six unique cultural phenomena that are the result of our archival and field research into the former and contemporary form of a particular custom. We always present them in an original, referring to the theme, graphic design and architecture of the site. These are films and tutorials, graphics and animations, maps, sound recordings, e-books, guides and educational packages. All of them are available free of charge, in two languages, adapted to the needs of people with disabilities. In 2020, they were added to the National List of Intangible Cultural Heritage.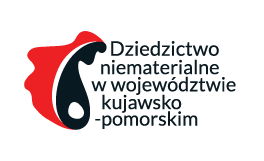 The Kujawsko-Pomorskie Voivodeship varies a lot when it comes to ethnographic aspect. It consists of 7 regions: Kuyavia, Chełmno land, Dobrzyń land, Pałuki and Krajna, Tuchola Forest, Kociewie. The cultural variety of these lands was in past also influenced by the presence of the representatives of other ethnic groups: Germans, Dutch, Jews, and also neighbouring regions: Great Poland, Masovia and Kashubia. It all made the cultural landscape of the province heterogenous and varied. It is an undoubted advantage, especially because the sense of regional identity of the inhabitants of particular regions is still very strong. It is supported by family message, and also by culture institutions, schools, social organisations such as Local Activity Groups and Farmers' Wives Associations.
The traditional culture, which is in its common meaning identified as village culture, functions in authentic or stylized form and is artistically formed by i.e. folk groups.
Its intangible values appear in local customs cultivated in societies, language and culinary heritage. In the ethnographic regions of the Kujawsko-Pomorskie Voivodeship, among various expressions of traditional intangible heritage, there are some which totally disappeared or occur only in scenic form, i.e. Kuyavian Pentecost customs and making patterns out of sand. Other, formerly popular in many places, in present day occur sporadically and on limited area, i.e. carolling of the gwiazdory in the village Sucha in Tuchola Forest and przywołówki in Szymborze in Kuyavia. Other customs function spontaneously and interestingly, and in recent years there has been a growth in their popularity – like it is in case of using old regional culinary recipes and the zapusty custom 'walking with a goat' in Kuyavia.
Remember:
All content is copyrighted and you may use it in accordance with applicable law.
You may:
Use extracts from all material for educational, popular science and scientific purposes. Always remember to cite the source and author of the work used!
You may not:
Use the materials for commercial purposes without an agreement with the Ethnographic Museum in Toruń.
You may not copy our site in its entirety or use any substantial part of it.
You may not use our website or its components (e.g. photographs, maps, texts or films) in publications.In such cases, please write to us with a proposal for cooperation: